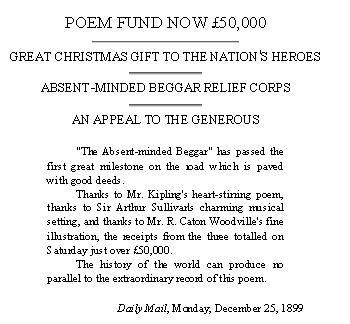 Speaker(s):
Dr John Lee (University of Bristol)

Abstract
Kipling's poem was written at the very beginning of the South African war to raise money for the families of soldiers. It was an immediate and lasting success, and is usually credited with raising between £250,000 and £300,000 (perhaps around £14 to £17 million in today's money). If true, that makes it - if not unique in the history of the world -- then perhaps the most practically effective poem in English, and one of the largest such fundraising campaigns of the Nineteenth Century.
The poem and its associated campaign, masterminded, to begin with, by the Daily Mail, seems to have succeeded so well because they were able to create something like a cultural perfect storm. The poem became a recital 'boom' in the music halls; set to music by Sullivan, it became a singing 'rage'; Woodville's illustration became one of the most famous images of the war. This, though, was only the start: there were performances in the Albert Hall and  national brass band competitions, and 'Absent-minded beggar' branded cigarettes, tea, and chocolate. Every soldier who embarked for South Africa was offered a free meal from the 'Absent-minded beggar fund' café. An 'Absent-minded beggar' ambulance service was founded.
Yet little beyond brief anecdotal accounts are known at present about the details of this campaign. This paper aims to establish the general outline of that campaign, drawing mainly on newspaper and periodical accounts. It aims to recover the detail of: the campaign's duration; the amount raised; the rate at which money was gathered; the social class of the donors; the varying coverage over time given to the campaign in a selection of newspapers; the various means and events employed to raise money; the social class of those involved in organizing those means and events; the means of the disbursements of the fund; and to whom grants were made.
John Lee seminar Screencast