Museums
This section of History in Focus provides a round up of museums and educational centres dedicated to, or with exhibitions on, the Holocaust. The places listed are in the UK and Europe.
Museums in the United Kingdom
Beth Shalom Holocaust Centre
The Beth Shalom Holocaust Centre is an educational charitable organisation based in Nottinghamshire. The Centre aims to provide a place of memory for the Jewish victims of the Holocaust with its museum, library, memorial gardens and art collections, and is designed with younger people in mind. The museum provides a broad overview of the Jewish experience in twentieth century Europe, starting with an exploration of anti-Semitism in recent history, moving on to chart the rise of the Nazis and their policies, leading to the Final Solution and the Holocaust. The Centre is not suitable for children under 12.
Imperial War Museum Holocaust exhibition
This exhibition is an excellent introduction to the Holocaust. It covers the experience of the Jews and other persecuted groups in Nazi Germany, using an impressive range of artefacts and video footage. Events in Europe are covered from the end of World War I, focusing on the rise of the Nazi party and its racial theories, its targeting of particular groups, and the awful conclusion of the Holocaust that these led to. The museum also occasionally holds screenings of relevant films. The exhibition is not suitable for children under the age of 14.
The Jewish Museum
The Finchley branch of the Jewish Museum in London houses a permanent exhibition in its Holocaust Education Gallery. It has been designed to tie-in with the National Curriculum for schools, though it is also accessible to the public. In addition to this the Jewish Museum also offers temporary exhibitions and talks on subjects such as the resistance movement and rescue of Jews during the Second World War, children's art from the concentration camps, and the Kindertransport.
International museums
The Anne Frank house
The house where the Frank family and their friends hid during the Second World War is now a museum, telling the story of those who hid and the people who aided them. As well as providing access to the annexe where Anne Frank and her family lived, the museum also displays documents relating to the family, including Anne Frank's diary. The museum also features exhibitions connected to the Holocaust, prejudice, and Anne Frank.
Memorial and Museum Auschwitz-Birkenau
The grounds and buildings of the Auschwitz-Birkenau concentration camp are recognised as a world heritage site and are open to the public for visiting. It is one of the largest and best-known concentration and extermination camps, and was the final destination for Poles, Roma, and communists, as well as Jews. Visitors to the site can also visit the archives, collections department and library.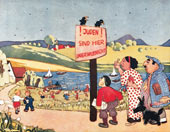 Page from an anti-semitic children's book 'Don't Trust a Fox', published by Der Sturmer. The sign reads 'Jews are not wanted here'.
Image copyright the Imperial War Museum.