InScribe: an online course on Palaeography and Manuscript Studies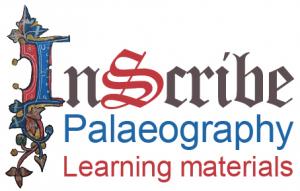 InScribe is an online course on Palaeography and Manuscript Studies developed across the School of Advanced Study (including IHR and IES). Its aim is to support the teaching of Palaeography and related studies at a postgraduate level. At present we are releasing a free introductory module, even though later in the year, advanced modules will be released providing advanced training on Diplomatic, Script and Translation, Codicology and Illumination.
Project Team
The project is a collaborative enterprise bringing together a number of institutes within the School of Advanced Study. It includes the Institute of Historical Research, the Institute of English Studies and the Warburg Institute. In addition the project has had the support of the Department of Digital Humanities at King's College London.
The project was initially set up by Prof Michelle Brown (IES), who retired in July 2012, and Dr Jane Winters (IHR), who remains as project director. Dr Francisco J Alvarez Lopez (SAS) is project officer and Dr Matt Philpott (IHR Digital) is the History SPOT platform liaison.
At DDH, Dr Peter Stokes has contributed enormously to the project and to the development of the transcription tool in particular. The tool was developed by Jamie Norrish.
Acknowledgements
The project team are enormously grateful to those archives and libraries which have allowed us to include on this platform images of manuscripts held in their collections.
Exeter: all images are reproduced by kind permission of the Dean and Chapter of Exeter Cathedral
London: all images are reproduced by kind permission of The National Archives and Senate House Library.
A number of individuals have given their time and invaluable support to the project, not least those librarians, archivists and staff in reproduction departments who have provided us with images, allowed us to film within their premises and generally gone out of their way to provide assistance. Particular thanks are due to Ann Barwood and Ellie Jones at the Exeter Cathedral Library & Archives, Paul Johnson at The National Archives, and Jonathan Harrison, Michael Mulcay and all the Palaeography Room staff at the Senate House Library, London.
Our gratitude is also due to those academics who agreed to take part in the films that have been produced about some of the manuscripts and documents used in this platform. We are very grateful to Prof Julia Crick (King`s College, London), Elizabeth Danbury (UCL), Dr Erik Kwakkel (Leiden University) and Dr Jenny Stratford (IHR) for their patience and collaboration.
Project Board
Prof Michelle Brown (until July 2012) - Project Co-Director
Dr Jane Winters (IHR Digital) - Project Co-Director
Dr Francisco J Alvarez Lopez (SAS) - Project Officer
Dr Matt Phillpott (IHR Digital) - History SPOT Platform
Dr Peter Stokes (KCL) - Project Board Member
Prof Charles Burnett (Warburg Institute) - Project Board Member
Ann Barwood (Exeter Cathedral Library) - Project Board Member
Partner Institutions