You are here: Reports » Phase 1: media » Reviews » Rough Crossings
Rough Crossings (2005)
Author: Simon Schama
Year: 2005
Publisher: BBC Books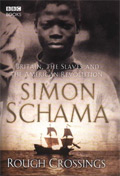 Schama's Rough Crossings is a well-written, enthralling narrative account which offers a new perspective on the manner in which the Abolition Act of 1807 is remembered in Britain and how the eighteenth century is viewed and presented in Britain. Rough Crossings takes as its subject the intricate and intertwined histories of enslaved Africans in the British colonies of America and British abolitionists. Through this retelling, Schama proposes a deconstruction of the national identities within Africa, Britain and America and provides an 'Atlantic heritage' from which new identities can emerge.
What is significant about Schama's work is that whilst it is offered as a forgotten, obscured or neglected history it also proceeds to deconstruct and challenge its readers' notions of history. Schama (2005: 17) assures readers of the obligation to, 'tell the story of Anglo-American conflict, both during the revolution and after, in a freshly complicated way.' This alternative form of history-telling is necessary for Schama's case for a revision of traditional perceptions of the events. This is a challenge given to readers to engage with the multiple ways of representing and reading the past as well as using historical narratives to shape notions of self-hood and definitions of identity in the present. Schama (2005: 459) states, 'histories never conclude: they just pause their prose. Their stories - like the one just told - are, if they are truthful, untidy affairs, resistant to windings-up and sorting out.' In this way Rough Crossings can be accessed by audiences in a variety of fashions, the narrative presented is one which readers can access from a variety of perspectives. Schama doesn't present his work in a closed, didactic narrative; rather its focus is on a variety of individuals. This mode of historical writing challenges and subverts traditional histories by incorporating old perspectives with the new. For instance, Schama (2005: 259) weaves the narratives of the abolitionist Granville Sharp and the former British army captain Thomas Peters together, so that Sharp is shown to be interacting with Peters, who freed himself from enslavement during the American War of Independence. The narrative is structured so that Sharp's perception of Peters is noted first and Peters then emerges in dialogue with Sharp. This is thereby a historical narrative through which a multitude of perspectives speak. Schama also chooses to focus away from traditional heroes of the period in Wilberforce, choosing instead individuals who have perhaps not been as sullied by revisionism.
Schama offers his readers a number of individuals through which they can see through and access this history. This feature is accentuated through Schama's evocative prose which enables Rough Crossings to offer an almost visceral history. Schama (2005: 35) describe London streets, 'where refuse, human and animal, brimmed in the reeking alleys, and twopenny whores lifted their skirts to sailors observed by cutpurses and yowling cats.' The descriptions of the sheer brutality of enslavement are necessarily powerful and repellent; 'the hold, amidst the slop of mucas, blood, shit, piss and black vomit...'(Schama 2005: 188). Schama however whilst offering criticisms of both America and Britain in the exploitation, mutilation, abuse and death of millions of enslaved Africans, does not portray these individuals as passive recipients of history. Rough Crossings' power and originality is in its subtle narrative framework which enables distinct, powerful characters to emerge from the all-too-often consuming nature of historical representations of enslavement. Individuality is highly significant in Rough Crossings, though the lack of parity in numbers between male and female characters is noticeable and an obvious detriment to the work. Rough Crossings nevertheless presents and suggests a means whereby history is accessed by a wide audience for a common purpose.