sources » The Black Prince
The Black Prince
Military career and reputation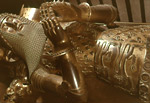 Effigy of the Black Prince. Detail (Canterbury Cathedral)
Larger image (44KB)
Edward, prince of Wales (1330-1376), known from Tudor times as the Black Prince, was the oldest son of Edward III and of Philippa of Hainault.
He is remembered as a great war captain. At Crécy in 1346, when he was only sixteen, he fought very gallantly alongside his father. At Poitiers in 1356, he won his greatest victory, capturing the French king, Jean II, and his rich baggage. At Nájera in Castile in 1367 the Black Prince defeated Henry of Trastamara, who had usurped the throne of his half-brother, Pedro 'the Cruel'. Froissart described the Black Prince as the flower of chivalry. To his biographer, Chandos Herald, he was 'the perfect root of all honour and nobleness, of wisdom, valour and largesse'.
Marriage, Aquitaine and death
In 1361 the Black Prince married Joan of Kent. Substantial sums were spent on dress and jewels. The next year he was invested with the duchy of Aquitaine and in 1363 the prince and princess left together for Bordeaux. Their court was reported to be magnificent. The birth of their elder son, Edward (1365-71), was celebrated with splendid tournaments at Angoulême. Richard, the second son, was born at Bordeaux in 1367. The Black Prince's love of luxury and autocratic manner aroused hostility in Aquitaine. He contracted a serious illness in Spain, perhaps dysentery. By 1370, when he besieged and sacked Limoges, he was already an invalid. He returned to England in 1371 and died after a long illness on 8 June 1376.
Effigy and armour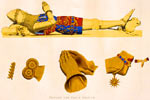 Effigy of the Black Prince. After C. A. Stothard, Monumental effigies of Great Britain, 1811 -
Larger image (32KB)
In his will, drawn up on his deathbed at Westminster Palace on 7 June, the Black Prince left detailed instructions for his funeral, tomb and epitaph. He was buried in Canterbury Cathedral as he had wished, but in the Trinity Chapel, not in the chantry chapel he had founded in the crypt, as he had specified. His tomb was completed early in Richard II's reign. The gilded copper effigy of the prince in armour is similar in style to Edward III's effigy in Westminster Abbey (see Edward III). It lies on a Purbeck marble tomb chest, probably attributable to Henry Yevele. The wooden tester (canopy) above the effigy is painted on the underside with a Throne of Mercy Trinity, surrounded by the four evangelists. As ordained in the prince's will, the marble tomb chest was surrounded by twelve escutcheons (shields bearing coats of arms), six of his arms and six of his ostrich plume badge.
Badge of ostrich plumes
The only specific bequests in the prince's will to his son Richard were sets of rich hangings, some worked with his ostrich plume badge. Richard was also left an unspecified amount of silver vessels 'suitable to his estate, according to the advice of our executors'. No doubt some objects listed in the inventory had belonged to the Black Prince and had passed to Richard either soon after the Black Prince's death or after the death in 1385 of his mother, Joan of Kent, but there is no sure means of identifying them. It is possible, however, that belts with ostrich plumes came from the prince or from his wife. A sword decorated with ostrich plumes, stated to have belonged to the Black Prince, was among objects pledged by Henry V in 1415 to guarantee the wages of one of his war captains for the expedition which led to the battle of Agincourt. This is not one of the swords listed in the Richard II treasure roll.
441 Item, [un] autre ceinture d'or, la tisseu noir garnise ove plumes d'ostrichez et petitz sonettez d'or, poisant xv unc' et di., dont la somme, xviij li. xxd.

[Item, another gold belt, the black strap garnished with ostrich plumes and little gold bells, weighing 15 ½ oz., total, £18 1s. 8d.]