Richard II's life and reign
Accession to the throne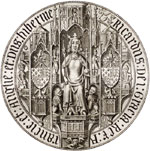 Great seal of Richard II. After F. Sandford, A Genealogical history of the kings and queens of England ... (London, 1707)
Larger image (67KB)
Richard II (1367-1400), came to the throne as a boy of ten in 1377, at a time when the Hundred Years War with France was turning against the English. His father, the Black Prince, an outstanding soldier, had died in 1376, leaving Richard as Edward III's heir.
The Peasants' Revolt
In the early years of Richard's reign, advisors (the continual councils) directed domestic and foreign policy. Heavy taxation provoked popular opposition, coming to a head in the so-called 'Peasants' Revolt' of 1381. The Tower of London was sacked and the archbishop of Canterbury and the treasurer of England were murdered. Richard won admiration for his bravery in riding out to lead the rebels away from London. In 1382 Richard married Anne of Bohemia, daughter of the Holy Roman Emperor, Charles IV, and in 1385 his mother, Joan of Kent, died.
Aristocratic unrest and the Lords Appellant
Richard's high-handed behaviour as an adolescent, the extravagance of his household and the attempts of his councillors to broker a peace with France, led to a series of aristocratic protests between 1386 and 1388. In 1387 Richard was forced to accept a controlling council. He left London in February and returned only in November, a few days before the council's mandate expired. In 1388, as a result of the political and military actions of the magnates known as the Lords Appellant, some of Richard's closest friends and advisors were executed or sent into exile.
Richard's majority
From 1389 when Richard declared himself to be of age, he influenced more closely the direction of government. This can be seen in his accumulation of wealth through the heavy fines he imposed, his expeditions to Ireland in 1394 and 1399 and his pursuit of peace with France. He exacted, for example, £10,000 from the Londoners in 1392. Following the death of Anne of Bohemia in 1394, Richard's peace policy led to the twenty-eight year truce sealed at a meeting between Richard II and Charles VI of France at Ardres, near Calais, and Richard's second marriage to Isabelle, eldest daughter of the French king.
Rebellion and overthrow
Richard's seemingly impregnable position was more fragile than it seemed. In 1397 he attacked the Lords Appellant who had prevailed in 1388 and seized their lands and goods. His uncle, Thomas of Woodstock, was murdered and Richard, earl of Arundel, executed on Tower Hill. Thomas Beauchamp, earl of Warwick, and Thomas Arundel, archbishop of Canterbury, were exiled. In the following year, as memorably dramatised by Shakespeare in his Richard II (see on stage), the two remaining Appellants, who initially had been pardoned, Henry of Bolingbroke, duke of Hereford, the future Henry IV, and Thomas Mowbray, duke of Norfolk, accused each other of treason. Richard forbade the resulting duel and exiled both men. In February 1399, John of Gaunt died and Richard seized the great estates of the duchy of Lancaster. This precipitated the crisis of the end of his reign. In May he embarked on his second expedition to Ireland. In July Bolingbroke landed at Ravenspur in Yorkshire and captured and deposed the king. Richard was imprisoned and died, probably murdered, in Pontefract Castle in 1400.